Internal Glass Wall & Partition Installation
Transparent & Privacy Glass for Offices
in Morgantown, Clarksburg & Fairmont, WV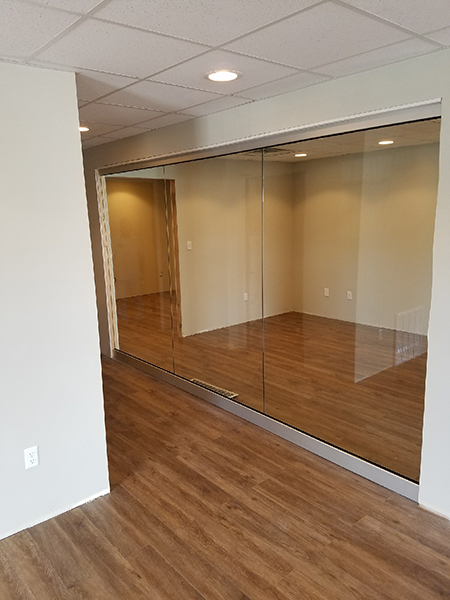 Royal Glass installs internal glass wall partitions for office spaces in Fairmont, Clarksburg, Morgantown, and north-central West Virginia. Varying degrees of transparency are available, including sandblasted/frosted glass. Your company logo can be applied via screen printing, as well. Our glass walls allow you to have the very best of both worlds: an open, flowing workspace full of light and maximum privacy and soundproofing when desired.
Optimal Use of Daylight
Increased Sense of Employee Wellbeing
Extraordinarily Energy-Efficient
Enhanced Visual Contact and Promotion of Teamwork
Positive Impact on Productivity
Glass Walls: Cleaner, More Attractive, and Secure
Let us help bring the amazing benefits of a glass office system to your workplace. Our systems are much thinner than traditional walls, saving valuable space, and are also easier to maintain at a level of true cleanliness. This makes them ideal for a wide range of applications, including biotechnology, pharmaceutical, and medical facilities, as well as banks, retail stores, and standard office environments. Although our systems are indeed sleek and highly aesthetically pleasing, they are durable and designed to handle the rigors of use and functional capacity. Available options include:
Glass Partitions
Glass Walls
Glass Rooms
Sliding Glass Internal Entry Doors
Swinging Glass Internal Entry Doors
Pivoting Doors
Enhanced Privacy Glass for Secure Environments
Contact Royal Glass to schedule a free consultation and estimate and let us show you how we can transform your office from dull and boring to a magnificently stunning environment that your employees will be proud to work at, and which will leave a lasting impression on your customers, as well. Call: (304) 366-3791.