Protective Glass Barriers
Custom Installation – Morgantown, Clarksburg & Fairmont, WV
Royal Glass offers the protective barriers your business needs to operate in compliance with CDC, OSHA, local, state, and federal laws, regulations, and suggestions for public health and safety. Let us know what you need and we will design and install your barrier to meet your specifications. Affordable on-site barrier installation is available in Clarksburg, Fairmont, Morgantown, and nearby areas in West Virginia.
Schools – Stores – Restaurants – Offices – Commercial Businesses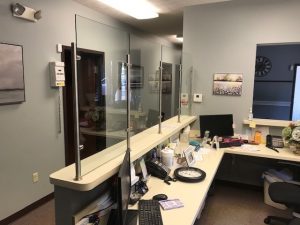 Royal Glass barriers are designed to offer sneeze guard protection to help intercept respiratory droplets, enforce social distancing, and reduce reliance on masks for a safer, more comfortable environment. They are perfect for school, retail store, restaurant, office, commercial, and other business applications!
Available In Glass, Lexan and Plexiglass
All Royal Glass installed barriers are available in your choice of protective material:
Lexan (Heat, Chemical, and Impact-Resistant Polycarbonate) – 1/8" and 1/4"
Plexiglass* (Rigid, Scratch-Resistant, Crystal-Clear Acrylic)– 1/8" and 1/4"
Glass
Desktop and Countertop Barriers
Our protective barriers are fully customizable to meet your needs. These clear, durable barriers are framed to your specifications. They can be installed to meet virtually all size, shape, and design requirements, including as permanent mounted desktop and countertop features for seated applications and seated/standing interactions.
Passthrough Bank, Pharmacy, and Pick-Up Windows
Reception Desks
Office Cubicles and Work Spaces
Points of Purchase
Check-In and Check-Out Areas
Medical, Dental, and Healthcare Applications
Hanging Barriers – Wall and Ceiling Mounted
For larger areas and public spaces hosting numerous individuals who will be standing, our hanging barriers are an ideal option. These hanging partitions can be framed or unframed according to your specific needs. Application mounting options can include a hang-down install from the ceiling all the way to the floor or any distance you require. Additionally, partitions can be installed horizontally for wall-to-wall barrier protection.
Waiting Lines
Government and Municipal Facilities
Professional Office Reception Areas
Public Venues
Portable Protective Partitions
If maximum flexibility and/or economy are a concern, we offer fully-framed portable barrier partitions. These movable units can be easily disinfected and transported exactly where you need additional protection. All custom options are available.
Do-It-Yourselfers: We Sell Plexiglass and Lexan Sheets
Royal Glass carries the barrier materials listed below for our DIY customers. Create your own personal safety partition with a frame or design of your choice. These items can be cut to any size or shape you need. We offer full-service custom cutting and cut-outs on these materials, as well.
Plexiglass* Sheets – 1/8" and 1/4"
Lexan Sheets – 1/8" and 1/4"
Request a Protective Barrier Installation Estimate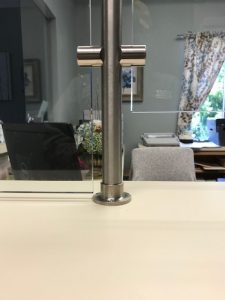 Royal Glass is ready to help you keep your business safer. Limit exposure to respiratory droplets which may harbor the coronavirus that causes COVID-19 and similar pathogens. Show your employees, customers, and guests that you care about protecting their health! Contact Royal Glass today for a free protective barrier installation estimate.
Royal Glass – Fairmont: 304-366-3791
*Plexiglass is a popular cost-effective barrier option; however it can become opaque over time with repeated application of disinfectants. Therefore, it may eventually require replacement with long-term use.